Regardless of the type of event, finding and booking the perfect hotel room can prove a bit challenging. Whether you're planning a grand wedding, an engaging conference, or an intimate gathering, there is a multitude of considerations to be made. Organizing the specifics like understanding the basic demands of the event, researching potential hotels, structuring cost analysis, to effectively reaching out to the hotel are all crucial parts in this procedure. This guidance will equip you with the needful knowledge to confidently evaluate hotel accommodations and eventually make an informed decision.
Understanding the Event Basics
Identifying the Nature of Your Event
Planning an event begins by defining what kind of event you are hosting. It could range from a business conference, a wedding party, a family reunion, or a charity fundraiser. Understanding the nature of your event will help you identify the type of hotel that suits your needs. For instance, business events might require hotels with conference rooms equipped with presentation facilities, while informal events like family reunions or a wedding might prefer a hotel with spacious banquet halls and recreational facilities.
Determining the Size of the Event
The estimated number of attendees for your event is a critical aspect while booking a hotel room. The number of attendees will dictate the size of the venue required; hence accurate estimation is necessary to avoid either overcrowding or under-use of the venue. Hotels have different capacities for their various event spaces, and knowing your attendee count ensures you book a space that can comfortably accommodate your guests.
Identifying the Required Facilities
A successful event not only depends on the location but also on the facilities offered by the hotel. Depending on your event, you need to identify the type of facilities you require. For instance, if it is a business event, facilities such as audio-visual equipment, Wi-Fi access, and break-out rooms for smaller group discussions might be a necessity. On the other hand, for a social event, facilities like catering, decor, and music systems may be of importance.
Hotel Selection
Once you have an understanding of your event's nature, attendee size, and required facilities, the next step is selecting a hotel that meets those needs. Consider hotels that have experience hosting similar events, as they are more likely to understand your requirements and offer suitable services. Viewing photos of previous events, reading reviews, and visiting the venue in person can help in making this decision.
Finalizing the Hotel Booking
After you've selected a hotel that fits your event specifics, the final step is to make the booking. This often involves discussing your specific requirements with the hotel's event manager, reviewing and signing a contract, and making a deposit. Ensure you fully comprehend the terms and conditions outlined in the contract, including cancellation policies, before finalizing the booking.
---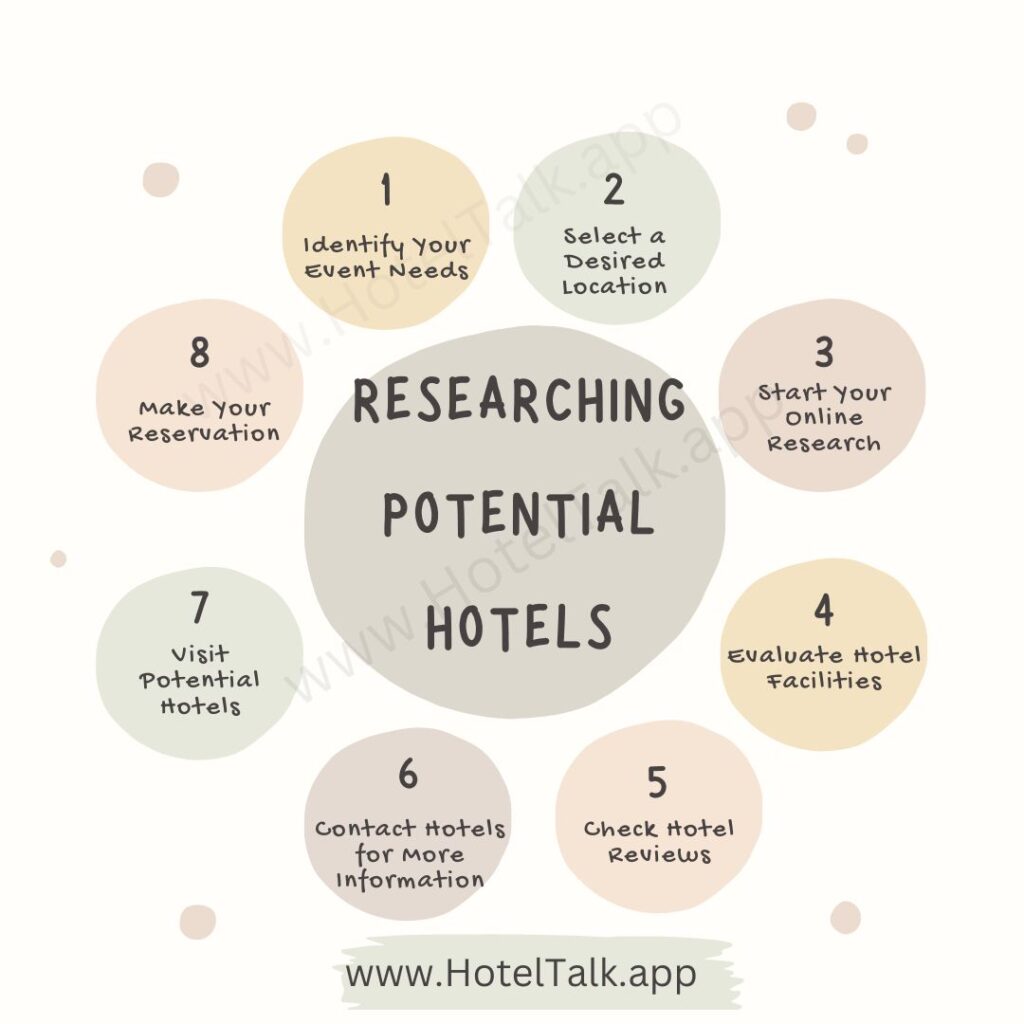 Researching Potential Hotels
Step 1: Identify Your Event Needs
Before starting your research, clarify the specific needs for your event. Do you require a large conference hall, breakout rooms, or outdoor event space? Consider if you need amenities like AV equipment, catering, or lodging accommodations for guests. Your event needs will form the basis of your hotel search.
Step 2: Select a Desired Location
Identify the desired location for your event. You might want to consider the convenience of the location for your guests. If most attendees are local, then a hotel in the city or near major transport links could be suitable. If you expect many out-of-town guests, a hotel near the airport or with ample accommodation might be best.
Step 3: Start Your Online Research
Leverage the internet to begin your search of hotels in your desired location. Use hotel booking websites, travel review sites, or the hotels' official websites to compile a list of potential places.
Step 4: Evaluate Hotel Facilities
Review each hotel's event facilities to see if they align with your needs. Look for detailed descriptions, pictures, and floor plans of their event spaces. Consider if the provided amenities match your event requirements. It's important here not to just go by numbers, but also by the layout of the event space.
Step 5: Check Hotel Reviews
Alongside facilities, investigate reviews for the hotels on your list, paying special attention to reviews from people who have held similar events there. This will give you a real-world perspective on the quality, reliability, and effectiveness of the hotel's facilities and service.
Step 6: Contact Hotels for More Information
Once you've shortlisted a few potential hotels, reach out to them directly to discuss your needs and ask any remaining questions. Many hotels have event planning specialists who can provide detailed information about their facilities, and they may be able to make recommendations based on your specific event. Don't forget to inquire about availability on your desired dates and the cost of using their event facilities.
Step 7: Visit Potential Hotels
If possible, visit the potential hotels in person. This will give you a clear understanding of what to expect and the opportunity to view the event space firsthand. It's also a good time to meet with the hotel's event planning staff or event specialist who can provide a walkthrough of their offerings.
Step 8: Make Your Reservation
Once you have conducted all your research and visits, make an educated decision and proceed with booking the hotel room or event space for your event. Be sure to confirm all details in writing and get a comprehensive understanding of the hotel's cancellation policies before you make a final commitment.
---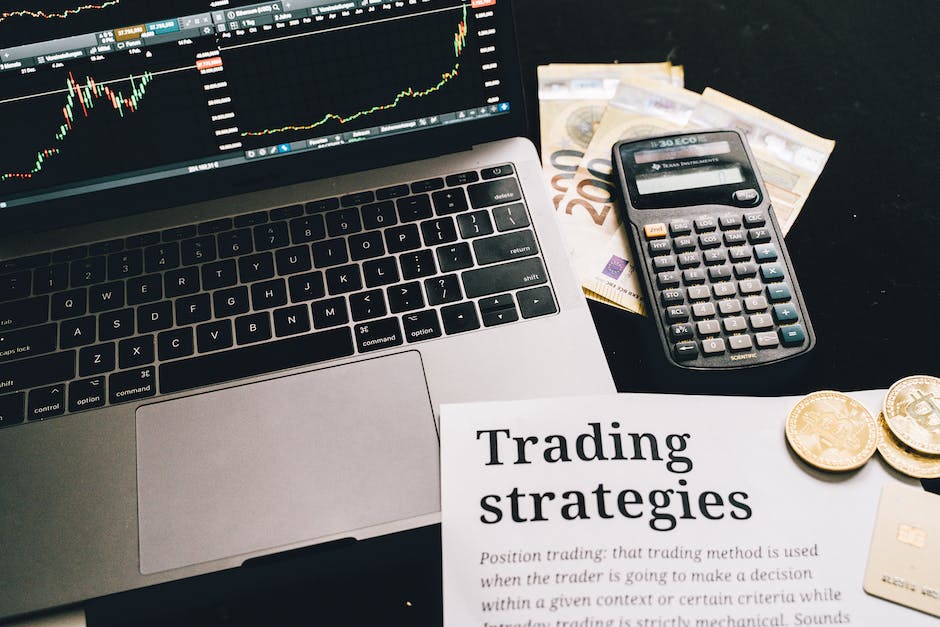 Cost Analysis
Outlining the Costs of Hotel Booking for an Event
The process of booking a hotel for an event involves a careful and detailed cost analysis. Knowing what each hotel proposes to charge can help you make the most out of your budget.
Costs for Booking the Hotel Room
To start, enquire about the cost of renting the space at various hotels. This expense varies significantly based on location, size of the room, and the reputation of the hotel. Make sure to cross-reference a few options to get a sense of the average cost.
Additional Service Charges
In addition to the room rental, many hotels also charge additional fees for services like setting up and tearing down, electrical usage, and any required insurances. These can all add up, so it's crucial to understand them upfront.
Catering Costs
Most hotels will offer in-house catering for events. It's important to get an itemized breakdown of their catering costs. These costs typically include the food and beverages, staff for serving, and any rental equipment, such as china and glassware. However, it can also include a service charge, taxes, or gratuity. If the hotel does not offer catering services, you will need to account for the cost of an outside catering service.
Hotel Amenities
Normally, hotels offer additional amenities that may or may not come with a cost. These can include things like Wi-Fi access, audio-visual equipment, parking, or access to a business center. Be sure to inquire about these services and their associated prices.
Cost Comparison
Once you have all the costs laid out, it's time to compare. Look at not just the base price of the room, but the total cost with all additional fees and services. You may find that one hotel offers a higher base price, but fewer additional charges, making it a better value overall.
---

Reaching out to the Hotel
Finding the Best Way to Place a Room Booking Enquiry
Knowing the best way to place a room booking inquiry for an event depends on your preferences and the hotel's available communication channels. These could include over the phone, via email, or directly through the hotel's website.
For some, placing a call is the fastest and most reliable method to immediately address your inquiries. This direct communication provides an opportunity to clearly express your needs, obtain answers instantly, and build a personal rapport.
If you prefer written communication, sending an email could be an advantageous option. With email, you have the chance to clearly outline your requirements, dates, and type of event. Keep in mind to include your contact information to allow the hotel representative to get back to you with their available options and packages.
Alternatively, some hotels offer direct room booking inquiries on their websites. This convenient, user-friendly option allows you to review availability, room features, pricing, and sometimes event packages. Just ensure to fill out all the information required and submit your inquiry.
Expressing Your Needs Clearly
When placing your room booking inquiry for your event, it is vital to be clear about your needs. Whether it is a phone call, email, or website form, provide specific details about your event. Include the dates, estimated number of guests, any special room setup or equipment needed, and whether there will be food and beverages required. Don't forget to ask if they can accommodate any dietary restrictions if food will be served. The more information given, the more accurate the hotel's reply can be.
Understanding Cancellation Policies
It's important to ask about the hotel's cancellation policies during your initial inquiry. This can prevent any potential misunderstandings or inconveniences later on. While many hotels provide this information on their websites, it's always wise to verify these details during your conversation or in your email. Make sure you understand the cut-off date for cancellations without a penalty, possible rescheduling policies, and if there are any non-refundable payments.
---

Reviewing and Finalizing the Booking
Step 1: Review the Responses
Once you have received responses from the hotels you have queried about booking a room for your event, take adequate time to review their offers. These responses will include information such as price, available dates, room size, provided amenities, and other relevant details. Reviewing these pieces of information are critical to making an informed decision about where to host your event.
Step 2: Compare the Offers
Start by comparing prices and included services from each hotel. This will give you an obvious picture of which hotels are providing more value for money. Sometimes, a slightly more expensive offer might have additional services that you need, ultimately making it a more cost-effective option.
Step 3: Assess Suitability
Consider the type of event you are planning and what each hotel offers in terms of appropriateness for your event. Ensure the room size is adequate for your expected number of attendees and that any required amenities are provided.
Step 4: Evaluate the Details
Ascertain that all your requirements and expected standards are met by the proposed services. Be attentive to details such as the catering options, room setup, audio-visual equipment, and other specific needs pertinent to your event.
Step 5: Confirm Availability
Once a hotel looks like it is a suitable match, double-check the availability of the room for your required date and duration. Take into consideration any setup and cleanup time you might need.
Step 6: Finalize the Booking
After all your evaluation is completed and you have decided on your preferred hotel, it is time to finalize the booking. This will commonly involve providing a deposit for the room. Ensure you get a written confirmation of the booking, whether by email or physical receipt.
Keep in mind that before finalizing remember to include any special demands or considerations in the final booking process so everything is as expected on the event day. Moreover, make a note of the hotel's cancellation policy just in case there are unexpected changes in your plan.
Ultimately, the process of booking a hotel room for an event requires a lot of careful planning and research. However, with a well-understood outline of the event basics, thorough exploration and comparison of potential hotels, careful cost analysis and effective communication with the selected hotel, you can surely ensure the best experience for all attendees. As you finalize your booking, keep in mind to double-check all the details and arrangements, thus making your event organization a smooth affair. Here's to your successful event!