For many, a trip to Disneyland is a cherished childhood dream come to life. Nonetheless, the sheer enjoyment can often be overshadowed by the hefty prices of staying near the magical kingdom. Fear not, for there are still many appealing and economical lodgings near Disneyland, where enchantment doesn't have to come at the cost of financial distress. A few notable examples include The Anabella Hotel, Anaheim Desert Inn and Suites, and the Del Sol Inn, each presenting its own unique blend of affordability, comfort, and close proximity to this dream destination.
The Anabella Hotel
The Charm of The Anabella Hotel
Whether you're seeking an inexpensive stay that doesn't compromise on quality or simply desire a spot close to the Disneyland excitement, The Anabella Hotel might just be the perfect fit for your needs. Recognised for its vintage California mission-style design, The Anabella is a surprising find nestled in the heart of Anaheim's bustling streets.
Comfort on a Budget
True to its promise, this hotel isn't merely about affordability. The Anabella Hotel offers an array of accommodations to ensure all guests enjoy a relaxing, comfortable stay. From expansive family suites to private luxury rooms for those special occasions. These lovely rooms feature Spanish-style decor and modern amenities that offer a restful retreat after a long day of fun and adventure.
Fitness and Leisure Facilities
But this place isn't just about sleep. The Anabella is well-equipped with two pool areas for a leisurely swim or a relaxing lounging session amid the sunlit surroundings. More active guests can avail of the convenient gym facilities, allowing you to maintain your fitness routine even while on vacation.
Tangerine Grill and Patio
Food connoisseurs have plenty to look forward to as well. The Anabella Hotel features an onsite restaurant, the Tangerine Grill and Patio. Here, you can relish a delightful fusion of California and Mexican cuisine in a serene, tropical outdoor atmosphere. Not to mention, their unique cocktails are sure to leave your palette desiring for more.
Convenient Access to Disneyland
Perhaps, what truly sets The Anabella apart is its proximity to Disneyland. The hotel provides a shuttle service that will take you directly to the front gates of the beloved theme park. Less time spent on travel means more time to soak in the magic Disneyland has to offer, making The Anabella Hotel a top affordable accommodation choice for those seeking fun, comfort and convenience in one package.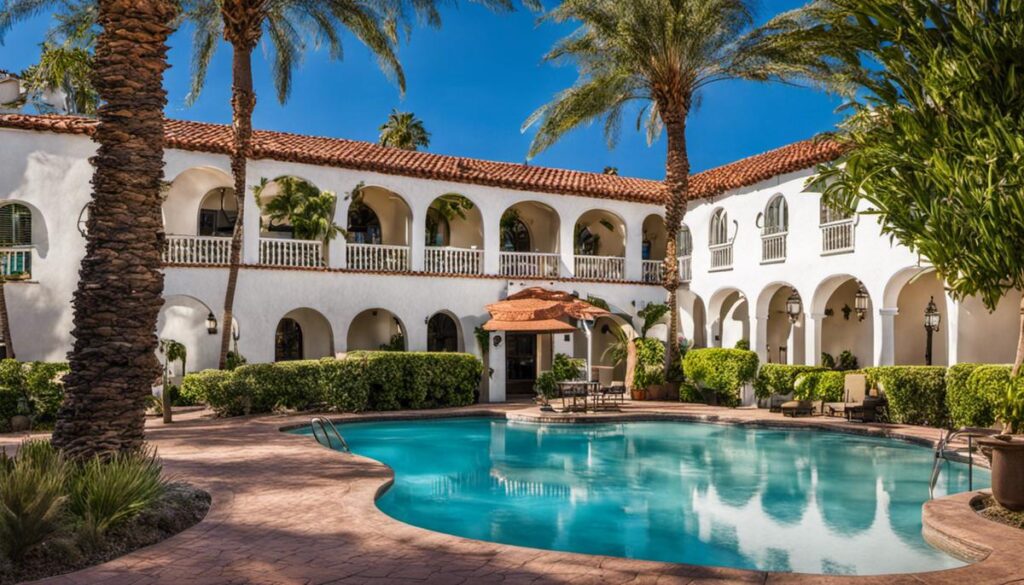 ---
Anaheim Desert Inn and Suites
Indulge in Affordable Comfort at Anaheim Desert Inn and Suites
Gently nestled a mere 5-minute stroll from the Disneyland Resort, the Anaheim Desert Inn and Suites stands tall as an impressive budget-friendly hotel choice. This establishment furnishes fantastic value for money, providing a bundle of top-tier amenities that guests can savour without breaking the bank.
Family-Friendly Accommodations
One of the major selling points of the Anaheim Desert Inn and Suites is its variety of family rooms. These thoughtfully designed spaces provide ample room for everyone to spread out and relax after a day of fun-filled activities at Disneyland. The rooms, in addition to being generously spaced, are packed with modern facilities that promise to make your stay as comfortable as possible.
Complimentary Breakfast
Beyond the splendid rooms, another facet of the Anaheim Desert Inn and Suites that guests frequently appreciate is the complimentary breakfast. There's nothing quite like waking up in the morning to a gratifying meal that doesn't come with an added cost. This sets your day up perfectly, providing you with all the energy you'll need to navigate the magical world of Disneyland.
Indoor Pool and Rooftop Viewing Deck
Guests also have the opportunity to take advantage of the indoor pool – a delightful option for those who want to unwind with a few laps or just splash around with the kids. Furthermore, the hotel also boasts a rooftop viewing deck – an extraordinary spot to take in the breathtaking views of the Disneyland fireworks. It's a spectacle that is sure to lend a touch of magic to any family holiday.
Convenience and Dining Options
When it comes to convenience, Anaheim Desert Inn and Suites also hits the mark. Supporting guests with free parking, it effortlessly eliminates the often strenuous task of hunting for a parking space. Also, the hotel is encircled by a plethora of affordable dining options, ensuring guests are spoilt for choice when it comes to satiating their culinary cravings.
An Extraordinary Experience
In a nutshell, Anaheim Desert Inn and Suites is a sterling pick for those seeking affordable proximity to Disneyland without compromising on comfort or amenities. It's a destination that efficiently marries cost-effectiveness with indulgence, to provide an experience that is nothing short of extraordinary.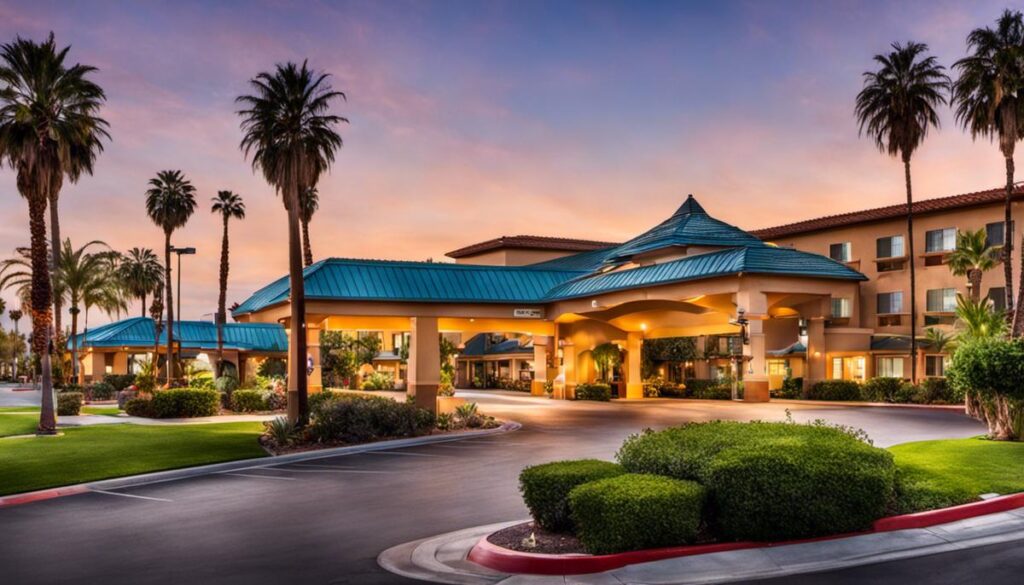 ---
Del Sol Inn
Del Sol Inn: Affordable Comfort Near Disneyland
If you're planning a trip to Disneyland and are looking for budget-friendly accommodation, the Del Sol Inn is certainly worth considering. Situated right across the street from Disneyland's main entrance, this hotel combines affordability with convenience, making your trip to the park effortless and enjoyable.
The Del Sol Inn may not offer the lavish luxury that some of the more extravagant hotels around Disneyland do, but it does focus on providing solid, clean, and comfortable guestrooms for travellers. Despite the reasonable pricing, this favourable location hotel does not compromise on cleanliness and comfort. Each basic, yet clean and cosy room can become your safe haven after an exhausting – yet exciting – day at the park.
But the Del Sol Inn is not just about a comfortable bed to sleep in, this hotel enhances the visitor's experience with additional amenities. One of the favourites among its guests is the outdoor swimming pool. Perfect for a mid-day dip, this pool offers a welcome break from the bustling atmosphere of Disneyland.
A unique highlight of the Del Sol Inn is its free continental breakfast. This is certainly a bonus for the budget-conscious traveller, reducing the overall cost of meals during the trip and providing some much-needed fuel for a day filled with fun and activities.
But of course, the major selling point of the Del Sol Inn is its location. Being just a stone's throw away from Disneyland's main entrance, guests can save on time spent in local transportation, leaving them with more precious minutes to explore, discover and create memorable moments at the park.
In sum, the Del Sol Inn presents a sensible and economical choice for travellers who don't want to overstretch their budget on accommodation. Its low rates, acceptable standards, and unbeatable location make it the ideal choice for visitors looking to spend more on what matters – their Disneyland experience. Having such a suitable, convenient, and affordable place to rest at the end of the day allows for easy, carefree, and endless fun in the mesmerising world of Disney.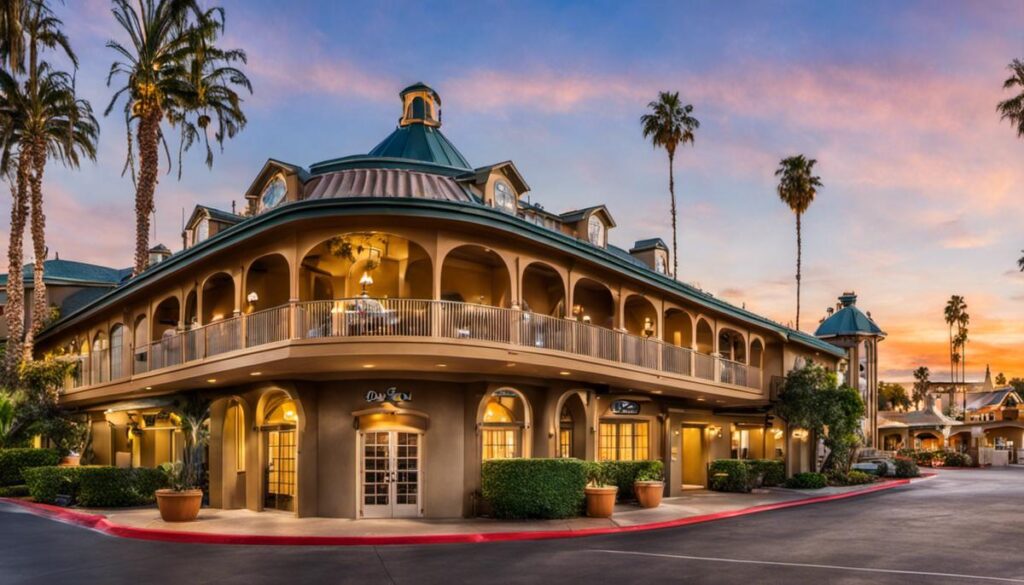 Regardless of the hotel choice you make, the promise of an exhilarating experience at Disneyland can be well within your reach if traveled smartly. Opting for these cost effective accommodations doesn't mean you have to compromise on the magical experience. Ensuring a perfect blend of comfort, convenience and affordability, The Anabella Hotel, Anaheim Desert Inn and Suites, and Del Sol Inn extend an unforgettable vacation experience. With these options in mind, you'd be well-prepared for a delightful journey, epitomising the magical wonder and adventure that Disneyland is so universally loved for.