One of the key objectives of developing a hospitality property is to provide a level of service in the future which will attract customers and permit smooth operations. This thread considers some of the key issues to be addressed in the countdown to opening or re-opening a hotel:
• Service and design planning integration
• Operational philosophy briefing document
• Pre-opening operational finance
• Pre-opening sales and marketing
• Management and staff recruitment
• Establishing departmental procedures
• Staff training
• Operating supplies and equipment (OS & E)
• Managing on a building site pre-opening
Service and design planning integration
Every service concept relies on integrating the physical property with the service requirements. The greater the efficiency in the planning of these two aspects, at the design and planning stage, the lower the capital cost of the development and greater the potential to enhance the unit's potential operational profit. Equally important to the size allocated to each area is its relationship to another, for instance, the kitchens in a conference hotel must be planned to provide easy and direct access to the restaurant and conference/ events facility.
Figure 1 illustrates a typical hotel relationship plan, normally provided to the designer, to indicate the relationships and movement of guests and staff between different areas. It is the task of the operator to analyse the plan layouts proposed to ensure that such relationships, guest and staff movement and distances meet the optimal operational performance. Equally, as the designer will be considering the constraints of the site and building form, it is important that the two parties give due consideration to their respective constraints and collaborate to achieve the most efficient solution to satisfy their respective aspirations. The best results are normally achieved by the two parties participating in a workshop wherein they can interact with their respective expertise to develop a preliminary sketch layout plans. The designer can then develop these in detail and amendment until both parties are satisfied the optimum solution has been attained.
Figure 1
Typical hotel relationship plan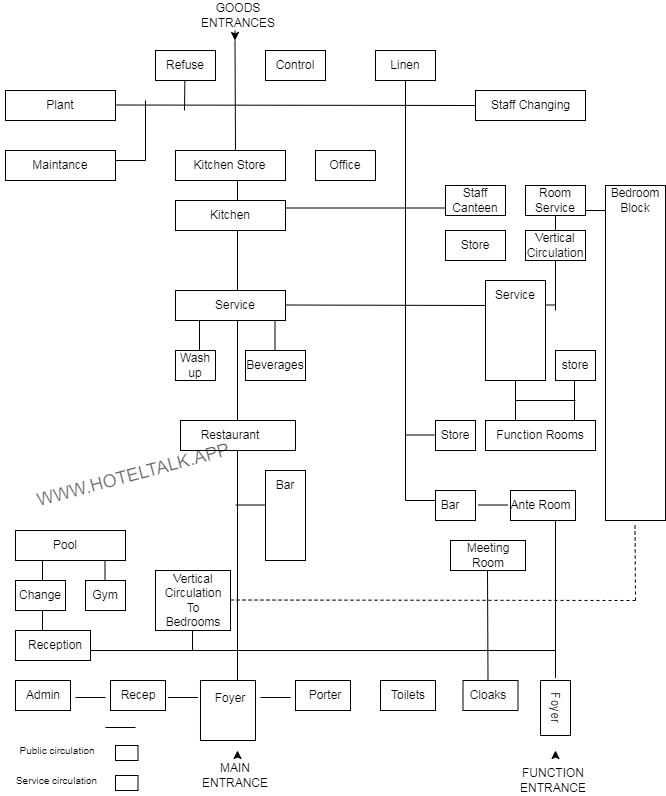 Operational philosophy briefing document
The other essential document in the development of a new concept or project is the operational philosophy brief. As with the design brief, this document sets out the proposed methods and systems planned to be utilized in operating the unit and, combined, the two documents cover the requirements for the physical and operational aspects for the proposed product. The operational philosophy briefing document needs to emanate from the developer who has initiated a commercial development, usually supported by an independent feasibility study, used to assist in the financing of the project and to obtain a suitable operator. The operator is likely to be chosen from a short list that matches the financial and service delivery aspirations of the hotel development in question.
Pre-opening operational finance
Modern technology dictates that detailed research is undertaken into the most relevant up-to-date back office systems. If the operation is a stand-alone development, an accounting manual should be produced, detailing policies and procedures, job tasks and standards of performance. A payroll system will need to be implemented and this can on many occasions be out-sourced to a specialist support company, often providing a more cost-effective solution. Cash control and credit policies should be established, ensuring secure money handling. Credit card commissions, supplier accounts, insurance, contract schedules, credit search policies, guest ledger review systems, stock control systems, order, delivery and invoice note controls, stock control and banking procedures are all important items to be established during pre-opening.
One of the most important elements to the long-term success of the business is the preparation and delivery of first class managementinformation in a pre-opening. This means evaluating all specialist software support, ensuring its appropriate integration into other systems with specific regard to accounting. A suitable management reporting format should be compiled, supplemented by the creation of key performance indicators (KPIs). These KPIs include such items as breakfast sleeper ratios, departmental labour and productivity analysis, cost indicators often on a per room or per square metre calculation. The production of a daily report detailing the previous day's trading should be undertaken, and this document should convey detailed departmental trading analysis to budget and forecast in the initial year, and then subsequently including prior years. A weekly detailed trading summary should also reflect the aforementioned.
Pre-opening sales and marketing
One of the most essential components of the pre-opening of any new hotel is the planning associated with the development of revenue streams. The execution of the pre-opening sales and marketing activity plan will commence initially with the appointment of a director of sales and marketing and production of a relevant critical path. The plan will ensure coverage of all areas contained within the above budget, and it is important that time-lines are met. Critical elements of the pre-opening activity must include establishing the updated competitor evaluation of both product and rate.
These issues are likely to have been originally addressed in the feasibility study carried out on behalf of the developers and funders. Interviewing of candidates for sales and marketing roles should be commenced against an agreed staffing time-line. The marketing plan should be commenced clarifying target market segments, agreeing room tiering and classification, and relevant rates. A key accounts list needs to be prepared with relevant sales action planning, allotment requirements and contracts for these clients should be prepared.
A pre-opening flyer, together with other collateral needs, must be created to ensure direct mail programmes are fulfilled, and that the sales team has appropriate brochures to use. A request for proposal (RFP) should be undertaken for the above-mentioned public relations, sales representation and advertising to ensure a competitive and well-evaluated support service. Sales and marketing staff need to be hired against an agreed departmental structure, which will reflect activity needed in specific markets. A range of familiarization visits should be undertaken for key potential clients, and sales visits on behalf of the hotel to domestic and international markets must be planned and executed. A website with booking engine should be created with relevant links established to local tourist bodies.
Management and staff recruitment
The most effective recruitment procedure would be the creation of assessment centres, supported by competency frameworks for each position that is being recruited. These frameworks are based upon technical and behavioural traits and will have been created by the HR manager in consultation with the general manager. These will first be applied to the key management positions and linked into the relevant job descriptions. These job descriptions can be prepared within the hotel or corporate office, or alternatively can be obtained through specialist companies such as the Freeman Group.
An assessment centre is organized by creating the suitable test means for demonstrating those key competencies. Tests would include behavioural, technical and personality profiles. The assessment centre would take place in an area where the majority of potential candidates are located, if possible, and would be administered by the HR manager or senior trained designee. This is a preferable method of recruitment as it is objective and measurable. Once the appropriate staffing schedule and recruitment process has been coordinated, a number of other key elements are required from the HR team. It is necessary for the department to create salary structure and appropriate reward schemes. Appropriate terms and conditions of employment must reflect the prevailing legislation within the country of the development. The creation of appraisal formats should be undertaken, as well as grievance handling, disciplinary procedures and related HR forms. A benefits plan should be completed. There should be consideration of a computer-integrated labour management system that monitors attendance, scheduling, and productivity.
Establishing departmental procedures
The success of any hotel is dependent upon well-defined and maintained policies and procedures. This is even more acute in a new hotel development. It is essential to create a job task for each role within the hotel. These are then supplemented by the standards of performance manuals. Consideration in the creation of these standards has to be given to the desired standards of profitability of the hotel and to the matching guest expectations. An example of such a standard of performance for staff is shown in Figure 2
Figure 2
Open Champagne Bottle
Example of a standard of performance
These departmental procedures will be required to be trained to all new employees and incorporated into their subsequent appraisal system.
Staff training
The amount of money necessary in a new hotel development will be determined inter alia by the scarcity of skilled labour within the local environment. Where that development is in either a remote location or an area of low unemployment, it will be necessary to often recruit from the non-hospitality sector and/or individuals who are not experienced in the roles for which they are hired. It is essential when recruiting that the culture and attitude fit of the employee is married to the aspirations of the company. Technical training can then be undertaken either by full-time trainers employed by the company, or obtained from an external training company.
A training plan should be initiated for all departments to integrate with the recruitment schedule and opening time-lines. Not all outlets may open simultaneously and so it is vital that these time-lines are adhered to, both for budgeting and standards. The trainers will use relevant job descriptions and standards of performance manuals in the execution of their work. In addition to technical training, it is often useful to employ a company specializing in cultural and motivational training, and it may also be necessary to undertake a range of courses designed to comply with local legislation, i.e. health and safety, employment law, non-discriminatory policies.
Operating supplies and equipment (OS & E)
Dependent on the level of support obtained from the corporate office, the purchasing manager can be one of the most important appointments in the pre-opening of a new hotel. That individual will need to coordinate a significant programme for the acquisition of diverse items. Much of this work can also be undertaken by a third party specialist company. It ensured that a complex programme of bid and tender was undertaken by a group of people with established supplier links and skilled internal manpower that specialized in specific areas of OS & E. This type of company has significant historic data on exactly on what items are required, what new market innovations exist, and updated pricing to fit the relevant commodity in question.
Key areas that will require identifying expenses are restaurant supplies such as crockery, cutlery, linen, bar supplies including glassware, coffee machines, blenders, ice machines, conference and banqueting items, room service items, guest supplies, maintenance supplies, etc.
Managing on a building site pre-opening
It can be a challenging task to integrate the needs of the operational team alongside the demands of the building site workforce. It is almost entirely the case that the pre-opening operational team will require offices away from the building site. This presents challenges closer to the opening of the property where segments of the building are being handed back from the developer to the operator. While it is always desirable to finish a project on time, it is often the case that specific time-lines of construction are not met, delaying the entry for the operator. This can pose the following difficulties:
• Unfulfilled training
• Unfinished snagging
• Lack of awareness by the employees of the logistics of the building
and whereabouts of the tools with which to do their jobs
• Poor guest satisfaction, leading to low employee morale and
start-up.