The Master of Business Administration in Culinary Arts is offered at Indian Culinary Institute, NOIDA & Tirupati under collaborative scheme with the Indira Gandhi National Tribal University. The Two-Year (Four Semester) program equips students with all the required skills, knowledge and attitude to efficiently discharge responsibilities in the Culinary sector as chef/ kitchen management and Culinary Specialist.
The program also involves in-depth laboratory/ Kitchen work for students to acquire required knowledge and skill standards in the operational areas of Food Production (various Cuisine of Indian and International), Food Handling, Hygiene and food safety standard. It also provides managerial inputs for kitchen management and food entrepreneurship.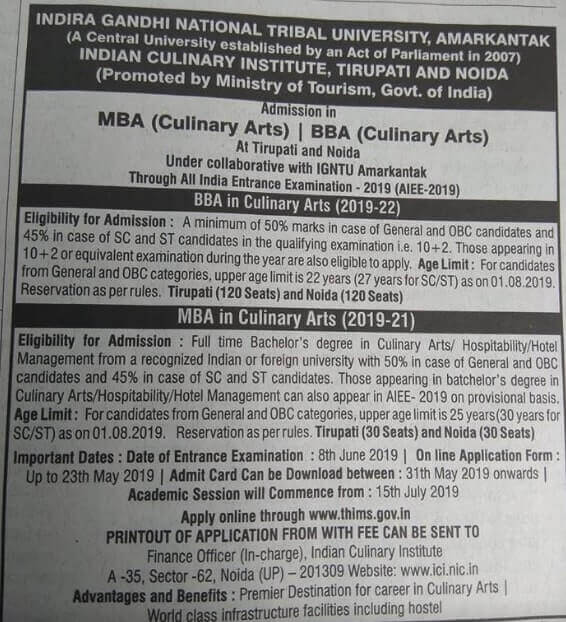 The program is aimed to produce Chefs to cater hotel, hospitality and allied industry. In the hotel/hospitality industry, highest paid employee is Chef. Chefs are responsible for preparation of food with culinary skills, which is the main identity of the hotel and the place. It is the field where one can showcase his/her passion and creativity more than any other area.
Chef means not only working in hotel or hospitality or allied industry but also one can recognize himself/herself by becoming Celebrity Chef. Apart from it, one can also become an entrepreneur by setting up his/her own specialized food outlet. This program provides the opportunity for the faculty from recognized Hospitality or Hotel Management for enhancement of professional qualification towards advancement in teaching careers.
Online Application Form: Up to 23th May 2019
Last Date of receipt of the print of Application Form& DD: 27th May 2019
Read More: http://thims.gov.in/IMSAdmissionNotificationInstruction.htm?268